Natural Bond Orbital (NBO) Analysis
<![if !supportEmptyParas]> <![endif]>
Reference


J. P. Foster and F. Weinhold, J. Am. Chem. Soc. 102, 7211-7218 (1980)
A. E. Reed and F. Weinhold, J. Chem. Phys. 78, 4066-4073 (1983);
F. Weinhold, "Natural Bond Orbital Methods", in, P. v.R. Schleyer (ed.), Encyclopedia of Computational Chemistry, vol. 3, pp. 1792-1811 (1998).
Notes


NBO analysis is performed by default ("NBO" keyword is optional). The default NBO search (Sample Output) and forms of valence NBOs (Orbital Diagrams) are illustrated for the formamide molecule (RHF/3-21G level at B3LYP/6-311++G** geometry). Other keywords extend the search to 3-center bonds (hypovalent or hypervalent) or provide further details of the NBO search (see NBO 6.0 Manual, pp. B3, B9).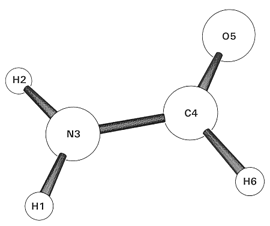 Sample Input (G9X)



#rhf/3-21g pop=nbo

RHF/3-21G for formamide (H2NCHO)

0 1
H -1.908544 0.420906 0.000111
H -1.188060 -1.161135 0.000063
N -1.084526 -0.157315 0.000032
C 0.163001 0.386691 -0.000154
O 1.196265 -0.246372 0.000051
H 0.140159 1.492269 0.000126


Main Keywords Home
NBO Home
<![if !supportEmptyParas]> <![endif]>
<![if !supportEmptyParas]> <![endif]>
<![if !supportEmptyParas]> <![endif]>